Libraries, Reading and my Favourite Books
by
The Dreamer
For me, libraries have a certain distinctive smell that I associate with 'home'. Ever since I was young, it was as if I had took it upon myself to make libraries my second home. The library that I went had an underground children's basement, and it was just packed with children's books. I realized, when I got older, that 'home' smelled like books, and therefore I found a sense of belonging when books were close to me. I would pester my parents to bring me to the 'dungeon' two to three times a week, and I would borrow the maximum quantity of 16 books.
My daily routine, as a kid, consisted of waking up at the crack of dawn, dragging the bag of books to the couch, and carefully stacking them on top of the other, re-arranging them until they were coordinated by size. Then, I'd settle down and start reading. Normally this ritual lasted for around three hours. I would not leave the couch for any circumstances until I reached the 16th book, so I'd literally have spent the entire morning on reading.
And I enjoyed it. But it seemed that no one shared my love over books as much as I did. Precisely, it was love tipping over to obsession. This craving for books meant that I read as I ate, as I pooped (crudely put), as I traveled, and I would read through car journeys till I was that close to throwing up.
I never knew why I fell so head over heels in love with books, but I figured out, maybe it was because I would immerse myself so deeply in these books that the plot would just stay swirling in my head for the next few days. It kept me satisfied, to have my heads in the clouds, which is why my mother said ever since I was young teachers always commented that I was a bit of a daydreamer.
I was a melancholy person, and my favourite fairy tale back when I was a kid, was The Little Match Girl.
I would cry whenever my aunt read it to me (she did it really slowly, so the emotions really hit me full force), and then I would wipe my tears and say, "Again!"
I think even though it was a tragic story, I took solace that the girl did not have to suffer from the harshness of the human race anymore, which was the reason why I loved this book – a subtle happy ending. Yes, I did believe in happy endings.
It blew my mind, like literally, whoosh, when I attended primary school and realized that some of my friends didn't read. I was thinking about all the stuff they were definitely missing out, like, this is absolutely ridiculous! How can people hate reading? But this was also partially the reason why I got glasses way before they did.
As I got older, I dived into the realm of Young Adult, and I was just lovestruck. There was the added element of love, kissing, violence, and as I stumbled in, I rekindled my love for libraries again. There was a period of time where I didn't frequent the libraries anymore, because I was too big for the 'dungeon' and I drifted apart from books. But now, even with hectic studying schedules, I make sure to have a book with me wherever I go (this is also the reason why the main criteria for my bags is that they must be able to fit in books) and even though I don't read 16 books anymore, I read at least one book a week.
Anyway, after all this rambling, I would like to introduce to everyone my favourite books that hold really close to my heart and I have probably read it more than four times. This is a tentative list, as with the flood of books my list is bound to change, though I doubt that some books in this list will lose its position. My favourite genre is contemporary fiction as I find it more relatable than dystopian, and I generally just like reading stories about human nature, love and whatnot.
---
5. Princess Academy, Shannon Hale
This was the book that really got me hooked into reading again. It's basically about a bunch of village girls that are supposed to be trained to be proper princesses, and one of them is eventually going to be picked as the prince's wife. It was a coming-of-age book that was just fascinating. There was magic, sisterhood, love, and many life lessons to pick up. It also showed me the power of women, basically just how to be more independent as a lady. This is probably the book that I've worn out from reading, and multiple times I have cried tears of happiness.
4. No and Me, Delphine de Vigan
No & Me was a book that my uncle had lent to me, and till now it's still in my bookshelves, haha. I couldn't bear to return it to him, because it was simply beautiful. It talks about a Parisian 13 year old genius Lou, doing a school project on the homeless in Paris. And then she meets No, a teenage girl living in the streets. What really struck me was that with the introduction of No into their lives, Lou, her mother who suffers from depression and her father who's really worn out all changed so much. It was a thought-provoking novel about the homeless, and I loved it because it just opened my eyes to yet another factor of humanity that I had never experienced.
3. Anna and the French Kiss, Stephanie Perkins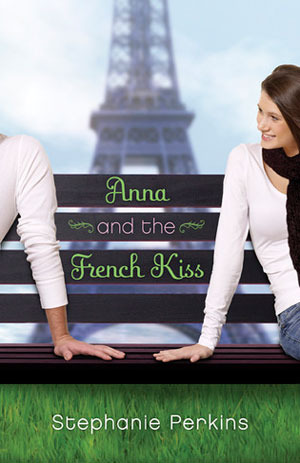 I have to admit, this is one of my guilty pleasures. Fluffy teenage romance with a yummylicious English boys in Paris! It was just a lighthearted romance novel that had me seeing stars because of how sweet it was. It caused such a big emotional havoc in my life after reading it. I had a straight-on crush on St.Clair afterwards, haha. I wrote Etienne, Etienne, Etienne all over my hand after reading it. Basically if you're looking for something that's fun, quirky and heart-pounding, you can try out this book, because it is my oxygen, simply put.
2. See You At Harry's, Jo Knowles 
This book hit me like a freaking truck bulldozing through my side. It hurt so much. After picking it up from the library, I knew I had to have a copy of my own, so I bought it, and the mere sight of the cover brought tears to my eyes. Even after that long period of one year, I could still vividly remember all the feelings I had within me reading this book. It is about Fern, who has a family that runs a restaurant. After an accident, Charlie, her three year old brother, dies, and what's worse was this it was under her care. Wrecked with guilt, Fern loses all purpose in life, and she feels Charlie everywhere. It also deals with homosexuality, family issues and teenage love. It was one of those tragic books that had a happy ending, which I liked, but mainly the way Knowles described how the death of a family member could impact the entire family so much, it was just heartbreaking to read. I had snot and tears running down my face, and I was in the library while reading this. There were stares coming from all sides because of the commotion I was causing, and I had to run to the toilet couple of times to clear the junk on my face, but it was so worth it. So beautiful beyond words.
1. Eleanor and Park
Eleanor and Park is my drug. If you do follow me on twitter, you will know how I would just go on random rants about Eleanor and Park for no particular reason. I have not read it for over half a year now, and now that it is the holidays, I'm picking it up again and ohmygod I'm falling in love with all the characters and Rainbow Rowell and the entire world.
I love that Eleanor is Eleanor. She's described as "Big Red", like Betty Boop drawn with a heavy hand. In other words, she's fat. But how fat? Many people have exactly consulted Rowell on this matter, saying, "I think she thinks that she's fat, but she's not. Or she's actually not fat – just curvy, like Marilyn Monroe." And Rowell just dissed them all saying, she's fat. She's chubby. Does it matter? Get over it.
I love that Park is Park. He's Korean-American, with green eyes but an Asian face. And I absolutely loved this about him. It is so much easier to picture someone Asian, than to picture this dreamy guy with blonde hair and six packs and blahblahblah( basic YA guy fantasy). Yep. No way. I like Park the way Park is. He is in fact, my ideal kind of guy. There definitely needs to be more Asian protagonists in the world of books. Rowell was asked why is Park Korean? Well, she replied, because he is. That was how she had always imagined him to be, and I feel like kowtowing to her for that.
This book disintegrated me to a blob of goobledygook. My copy of this book is tear-stained, tea-stained (from all the times I had to spit out tea because of laughter, and to say 'aww') and stained WITH ALL THE BLOODY REMNANTS OF MY HEART. The ending, though. THE ENDING – it was open-ended. I need a resolution.
If I was Hazel Grace in The Fault in Our Stars, Eleanor and Park would be my An Imperial Affliction.
Of course, there were so many books that I adored, like the aforementioned TFiOS. Ugh. This book. However, I think the list above are consisted of books that have reached into my heart and left the deepest imprint in my heart. My books aren't necessarily other's cup of tea. Same goes for my music. I remember recommending some books to my relatives and they said it was so boring, blahblahblah. So similarly, these books might not be your favourites, but they're mine. And it doesn't matter, in the end, if the public's opinion of it are bad, if the ratings are bad, because I liked it. Many a time I find myself giving 5 stars to books that people deem at 2 stars. And that's okay. Sometimes, I'm even unwilling to share books with my friends and family, because I want them to stay there, rooted in my heart, a special place that only belongs to me. I don't know. Do you guys feel that way too? Are my books a yay or a nay? Comment down below. I would love to see your thoughts.
钧 x x
Jean xx